What does music mean to us? How do Canadians value (undervalue or devalue) music? What is the difference between art and culture? Why is Western art music problematic in a country that is both decolonizing and branded as multicultural?

Cultural equity and the relative value of the performing arts are pressing and complicated issues currently facing Canadian musicians and musical institutions. Whether historically advantaged or disadvantaged, almost all (outside of Quebec) have been perennially underfunded. Moreover, in the social justice and post-Truth and Reconciliation era, we must now confront the layers of colonialism inherent in Western arts practices and in the structures by which we present them.
In my consulting work, I disentangle the complex web of historical and socio-political dynamics currently affecting the Canadian musical landscape. I deconstruct the terminology associated with cultural equity using musically relevant metaphors and examples, so that musicians, music educators, and management can make informed decisions about how to move their creative practice forward and engage respectfully with those whose arts practices (or selves) have been historically othered.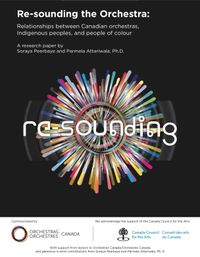 Through 2017-18, I and equity consultant Soraya Peerbaye undertook research for Orchestras Canada in support of their "Inclusion, Diversity, Equity and Accessibility" document. Our work included one-on-one interviews and panels with orchestra management from across the country, as well as with Indigenous and visible minority musicians working in the Canadian orchestral sector. In June, 2019, Orchestras Canada published our research paper, "Re-sounding the Orchestra: Relationships between Canadian orchestras, Indigenous peoples, and people of colour."  

Related presentations and publications:
• Canadian New Music Network (CNMN), November, 2020.
• Society for Ethnomusicology, October, 2020.
• Organization of Canadian Symphony Musicians presentation, August, 2017; August, 2020. 
• Una Voce article on equity in Canadian orchestras "Tempo Égale?" April, 2018.
• Kitchener-Waterloo Symphony Orchestra, AGM, April, 2018.
• Orchestras Canada National Conference presentation, June, 2018.
• "The Ethics of Orchestras in Multi-cultural Nations", Springer Encyclopedia of Business Ethics, (fall, 2019).
• Opera.ca, "Civic Impact, Equity, Diversity and Inclusion", panel moderator (2016)
• Music Gallery, Toronto, "Identity and Contemporary Music in Canada", panel moderator (2015)
~
In 2021, I had the joy and honour of developing an anti-racist, anti-oppression music curriculum for Community Music Schools of Toronto (formerly RPSM), the extraordinary school where I taught for six years subsequent to finishing my Ph.D. My task in developing the curriculum was to integrate a social curriculum, developed in 2020 (in response to the effects of both the pandemic and the death of George Floyd on the wellbeing of the school's students) by Vanessa Chase, with the recommendations from an ARAO organizational review of the school by Nene Kwasi Kafele (York U).
There is a tendency, particularly in the capitalist Western (but non-European) world, to defend "why" music--and music lessons, specifically--is important. It's "good for the brain", is the most common epithet; yet the purveyors of this idea are always the Eurocentric music institutions that are trying to attract students and their parents' wallets. 
In developing CMST's curriculum, I drew upon the pedagogical philosophies of Dr. Marie Battiste and Paolo Friere that puts the child as the director of their own path of learning. The teacher's role is to help the student navigate the path. The teacher's role is not--particularly with something so personal, emotionally profound, and socially intersectional as music--to insist upon a singular path that limits definitions of being musical.  
Here's a link to a podcast about the new curriculum.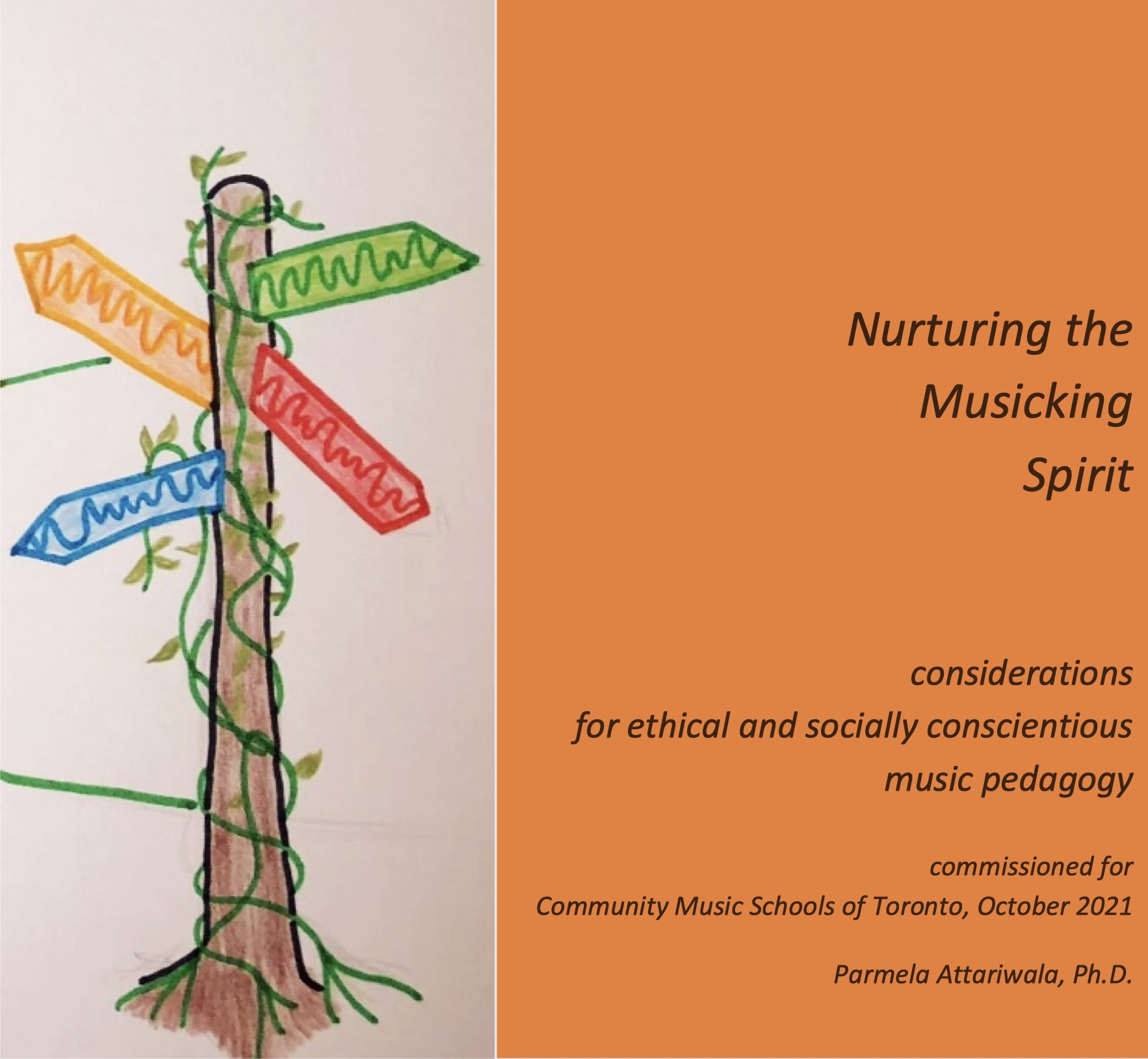 Please contact me if you are interested in a meeting or presentation related to cultural equity in Canadian musical arts.

The back story 

In addition to performing, teaching and creating music, I am also an ethnomusicologist. Each aspect of my musical life feeds into the other. As a violinist, I am particularly drawn to detailed learning. But, in addition to being naturally curious, I also need to understand the context in which I make music: how the minutiae of things fit into the larger social, economic and political frame. Perhaps, too, because I come from a science-oriented family, I need to understand beyond superficial perceptions; beyond the hypothetical epithets uttered by colleagues frustrated by the increasingly tenuous nature of being a musician today.
 
I can only describe my introduction to the field of ethnomusicology as a "stumbling". While looking for a way to move to London (after two years studying violin in Switzerland, where I eventually tired of constantly confronting racist attitudes), a friend suggested I consider studying ethnomusicology at the School of Oriental and African Studies (SOAS) in London. At that point, I had never heard of either SOAS or ethnomusicology. In retrospect, and having taken my undergraduate degree at Indiana University—an important centre for ethnomusicology—this shortcoming highlights what I now consider an egregious divide between performance and academia at the university level (on both sides of the division).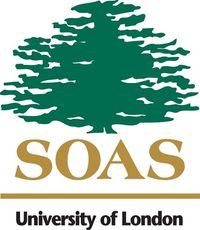 Ethnomusicology has proved a perfect fit for my extra-performative inclinations. At SOAS, I focused on the history and musical performance of medieval North Indian devotional poetry. Thus, I was able to combine my background in music with my interests in poetry, religion and history. I also had the privilege of studying Gurmukhi translation in one-on-one lessons with linguist, Christopher Shackle. Most importantly for me, I gained a deeper understanding of the non-Western side of my ethnocultural background and why had I sensed antipathy from members of my ethnocultural community towards my pursuing music as a profession. The framework for being a musician is completely different in Canada: it is not tied to religion or heredity, nor clouded by gender prejudices.
 
After many years making a living as a performing musician in Toronto, I returned to academia to pursue a Ph.D. in 2004. Again, my situation informed my subject matter. Since the late 1990s, my performing colleagues and I noticed the sharp decline in professional opportunities for Western classically trained musicians. This decline was paralleled by the business world and arts funders/presenters increasingly emphasizing diversity and diverse representation in the workplace and onstage. Thus, my doctoral research focused on the effects of official multiculturalism on contemporary Canadian music-making, with a particular focus on public funding, identity politics and liberal-democracy, notions of culture within multiculturalism, and conflicting definitions of authenticity. My thesis, Eh 440: Tuning into the Effects of Official Multiculturalism on Publicly Funded Music in Canada is available through the online thesis portal, T-space. https://tspace.library.utoronto.ca/handle/1807/43526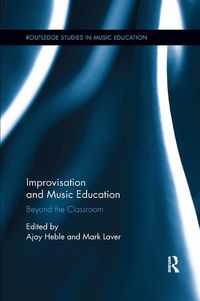 In 2016, Routledge published Improvisation and Music Education: Beyond the Classroom (edited by Mark Laver and Ajay Heble,) to which I contributed a chapter on improvisation and contemporary pedagogy from the Western classical perspective "Time to Change the Curriculum: Revaluing Improvisation in Twenty-first Century Canada". In the chapter, I argue that an ability to improvise--even simply having the openness to creating, rather than only interpreting music--is an increasingly important tool for the contemporary musician. Moreover, I also suggest that improvisatory abilities are important to cross-genre and intercultural dialogue and collaboration.
 
I have also undertaken research projects for Toronto's inner-city Regent Park School of Music, studying student engagement from the perspective of teachers in order to enhance pedagogical approaches required for teaching children from socio-economically compromised backgrounds.  In the summer of 2021, I developed a new anti-racist, anti-oppression curriculum for the school. Inspired by the pedagogy of Marie Battiste, I titled the new curriculum, "Nurturing the Musicking Spirit".
 
From January-April, 2017, I was the Stanley Knowles Distinguished Visiting Professor in Public Policy at Brandon University. In addition to teaching an introductory ethnomusicology class for performance and music education majors ("Ethnomusicology and the Canadian Musician") and undertaking knowledge-exchange with the Manitoba Arts Council, I presented public lectures on: "The Impact of Multiculturalism on Arts Funding in Canada" (available by request); "The Implications of Multiculturalism and Decolonization on Curricula in Canadian Post-Secondary Music Programs"; and "Towards a Canadian Music: Supporting the Development of Authentic Personal Voices".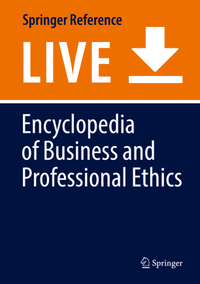 In June 2019,  Orchestras Canada released the results of an 18-month equity study I undertook with equity consultant Soraya Peerbaye. In my home page blog post, "Ghosts of the Woolly Mammoths Roar", I outlined the various problematics we considered while doing this research. Inspired by the investigations into orchestras and social justice,I contributed an entry to the Springer, Encyclopedia for Business Ethics on the ethics of symphony orchestras in multicultural nations. The entry, "The Ethical Responsibility of Orchestras in Contemporary (Multicultural) Societies" is available in the encyclopedia's 2019 print and online editions.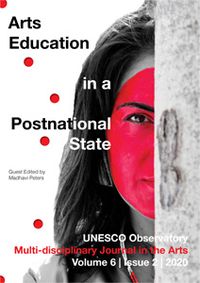 Summer, 2021:
"Sustain and Release: Reckoning with the Meaning of Expressive Culture in Canadian Music Education" in UNESCO Observatory: Multidisciplinary Research in the Arts. In this issue of the UNESCO Observatory, contributing artists and educators consider whether the notion of Canada as a postnational state is reflected in Canadian arts and arts education. I examine the publicly-funded systems that support music education in Canada; in particular, primary/secondary schools and community music schools. I  suggest that while imperatives and criteria to support ethnoculturally diverse musics exist in public music education curricula, a number of structural issues (not least of which are the prerequisites for enrolling in postsecondary music performance and music education programs) complicate educators' abilities to support non-Eurocentric musics. 

On a more reflective note, I contributed an article to the Critical Studies in Improvisation's Covid-19 Special Issue (pending, fall 2020). I participated in one of the more extraordinary Covid-era music-making experiments, "Creative Music Series #8", curated by NOW Society's artistic director Lisa Cay Miller in the spring of 2020. I held Zoom conversations with half of the 48 musicians/artists who participated in the project. The conversations allowed us to talk about what improvisation means to us individually, as well as what the community of improvisers connected to Miller mean to each other.
https://www.unescoejournal.com/wp-content/uploads/2021/08/6-2-1-Parmela-Attariwala.pdf